Welcome
Our purpose is to continue to be a leader in our industry, provide quality service to all our customers, and a commitment of the highest standard.
We are proud members of the American Fence Association ( AFA). The AFA is the oldest and largest Association serving the fence industry. AFA provides continuing education, promotes the highest level of ethics, product standards, and professionalism. Joe Sallemi, president of AAA Inc. is an active supporter and volunteer of the AFA. Joe has served as President of the Garden State Chapter of AFA, and is currently serving on the Board of Directors of AFA national. A Certified Fence Professional ( CFP) must complete an AFA rigorous certification program that recognizes individuals that have demonstrated knowledge of product quality and installation techniques, to assure first class products for the consumer. A CFP must continue education requirements as well as industry service requirements to maintain this certification. AAA Inc. is proud to have 2 individuals with CFP status.

Certifications
• AFA Certified Fence Professional
• AFA Certified Automated Gate Operator Installer
• AFA Field Training School Graduates
• N.J. Home Improvement Contractor License 13VH02863600
• Department of Public Works Approved Contractor
A.A.A. Inc / Anzalone Fence Co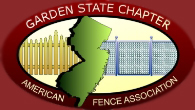 Anzalone Fence is a proud dealer of these fine fence products in the South Hackensack, New Jersey area:
Illusions Vinyl Fence, Grand Illusions Color Spectrum Color Vinyl Fence Products, Grand Illusions Vinyl WoodBond Woodgrain Vinyl Fence Products, Illusions Vinyl Railing System, Eastern Ornamental Aluminum Fence Products, Eastern White Cedar Brand Wood Fence Products, and System21 Chain Link Fence Products.
Please Check Out the Product Websites for Photos, Brochures, Tech Specs, and General Product Information: